This week I had the pleasure of interviewing Life As Mary, an Atlanta based singer/songwriter with a magnetic, and electrifying personality, a larger-than-life energy, and a unique indie-rock/pop-punk style. Her songs are exciting to listen to because of their melodic intricacies, direct and honest lyrics, and memorable hooks. Every song accurately expresses Mary's rockin' ideas through strong musical visions. In her words, "my style will definitely resonate with fans of artists the likes of Cat Power, The Pretenders, or Amy Mann… only to mention a few". Her energy as a female rocker is empowering to listen to and we hope to spread that vision. 
We wanted to learn more about Life As Mary and her life as a musician so far. Here's what we learned: 
First off, tell me about yourself … Where are you from? What do you like to do other than music? 
I consider myself to be from Greenville, SC, because my dad's work transferred him there when I was in the middle of third grade. Now, I live in Atlanta, but love going back there to visit family and friends. There's a rich music and arts culture there, so it's a great place for inspiration. 
My main passion is music, so I exercise that by running a business in Atlanta called Metro Music Makers. We provide music lessons and music therapy services to individuals, schools, and healthcare facilities. It's exciting and rewarding to be able to share my love for music with others.
Another hobby I recently took up is surfing! I took my first lesson a couple of years ago and now I'm hooked! I try to get to the coast as often as possible to ride the waves.
How did you get started in the music industry? How was your journey to where you are today?
I started learning about music at a very young age and it quickly became my life's path. As far as getting into the music industry side of things, I did something that I don't necessarily recommend. I dropped out of graduate school and moved to Atlanta to pursue life as a singer-songwriter. In a lot of ways, it was the best thing I ever did. After several years, I took a deliberate break from the music scene and started my company. Now I am back after a 15 year hiatus, and I'm feeling a tremendous energy around my music and songwriting that's both positive and motivating.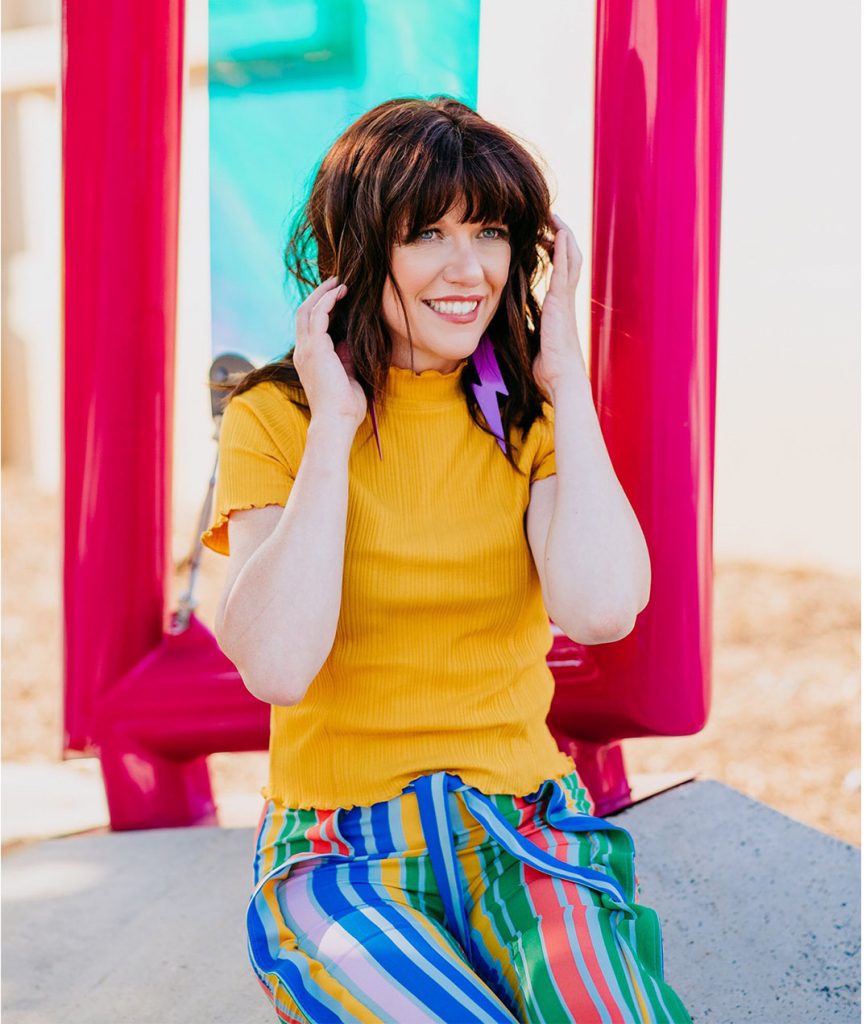 Did you have other career paths, or passions that maybe clashed with music? 
I've certainly had my share of odd jobs. I've waited on tables, washed dirty dishes, worked in retail and even had a corporate job at one point. My least favorite job was working at a hardware store. I was not a good fit and I couldn't remember the names of all the different nuts and bolts. It was the only job I was ever fired from and rightly so! The thing about odd jobs is that they add to the life experience and you meet people you might not meet otherwise. 
What's the most rewarding part of being a musician for you? 
The creation process is an outlet for me, and I love taking the bones of a song into the studio for production. The music I write is pretty personal, and it means so much when someone else likes the tune or the lyrics or both.
Who or what are your biggest musical influences? 
I was trained classically from a very young age, so there are certainly classical influences such as Brahms, Beethoven and Rachmaninoff. My grandfather and I used to take long rides together, and he would play great jazz artists like Ella Fitzgerald and Hoagie Carmichael. My mother sang along to show tunes, and my dad liked bebop. The common threads seem to be a memorable melody and strong harmony which is what I'm attracted to with my favorite artists.
Who would be your dream to collaborate with? 
I can only choose one!?! I'd have to say Chrissie Hynde for sure.
As an artist, what are some of your major goals in the next five years?
I still feel like I'm getting my feet wet as I'm getting back into songwriting and production. I'd really like to collaborate with other artists and fully produce a song on my own. Right now, I'm lucky to have several talented folks in my life to help with production, but to be able to take a song from inception to full production on my own would be quite an achievement. 
What can the DropSpot readers expect from you in the near future? Do you have any new music or live shows coming soon?
I have a Christmas song coming out on November 22nd, and there will be a music video for it too!
Anything you'd like your listeners to look out for when listening to your music?
I believe my songs can become your own story or journey. It makes me happy to think that someone connects with my music in their own special way. I have my interpretation, and it's important for listeners to have theirs too.
To listen to Life As Mary's music, click – (Spotify, Apple Music).