Peralt is an upcoming artist from Boston, MA. His flows play off the influences of classic hip-hop staples such as Lil Wayne and A$AP Rocky, while maintaining today's trending trap sounds. In his most recent song, Addy, you can hear strong influence from Gunna and Lil Baby, rappers deemed by GQ to have defined the rap game in 2019. However, Peralt makes this sound his own through his unique melodies and Adlibs, which is his "most favorite part of recording". Hard lyrics and dense trap beats are also a given in every Peralt track so far. We wanted to hear from Peralt on how he's become the rapper he is today, and what to expect from him in the future. Here's what we learned:
How did you get started in the music industry? How was your journey to where you are today?
To be honest, In high school me and a couple folks used to freestyle at the lunch table in school nothing serious. We would make beats on the table and put words together that sounded cool. Later on, after high school, I used to somewhat manage my bother, my right hand, my twin Kam Carter. We used to go to the studio literally 5 or more days a week after school. It was a free studio so we took advantage of it. I've always liked freestyling at home but nothing on the mic. While managing Kam I came to the realization that I actually enjoyed being at the studio. One day I was just going through a lot of shit and kept thinking about my mom which ended in me writing something to Bun B- Your everything instrumental haha. I think I still have it in my notes, after that I texted Kam the lyrics and how I was feeling. We spoke about it and since then I made a promise to myself I would not bottle my pain but instead use it to get creative behind the mic. My journey was tough because I ain't really know my sound.. I was heavily influenced by Rocky and Lil Wayne so my music would have the rocky sound And my lyrics would be the punch lines how old wheezy used to do it. At this stage of rapping I listened to nothing but Rocky and the No Ceilings mixtape(Best mixtape to ever come out btw). But over the time I listened to a variety of different musicians and spent time in the studio to find my exact sound. Then boom came the use of auto tune and since then I've used my vocals to become creative.. my favorite part of recording is actually the Adlibs. I can close my eyes and just sing a nice melody.
Did you have other career paths, or other passions that maybe clashed with music?
I love music a lot because it is a gate away drug for when I go through a lot in a week. I used to want to be an astronomer lol.  While my mom used to be at work my favorite channel was the history channel and a lot of stuff about the planet you know? Being young and exploring things like that looked cool as hell. As a kid I used to always dream about just flying in space or visiting different planets, but now I don't get those dreams because I'm constantly going to sleep high and you know. Other than that, in my late teens I used to always want to be a model and model for clothing brands. I look at rap as an opportunity to do all the things I couldn't do before because of how low my name was in the city. I still want to be a model but also make appearances in movies and commercials etc.
Who or what are your biggest musical influences?
Biggest?? This is going to be hard because a lot of artists have a big influence on who I am today. Huh I would say literally my top 5. Which would be (in order btw) Lil Wayne, 50 Cent, Eminem, Pac and Big. Not from just their music but their demeanor and how they presented their selves to the public's eyes. But other than my Top 5 I would definitely say Rocky, Thug, Tpain, Kanye, Durk and plenty more. I like the fun shit in rap but when my life gets serious there's no time to be listening to all the jolly things. I'd ride around listening to Durk, 21, polo G cause you know? I can hear what they're saying because I am either going through the exact situation or been through similar.
I gotta give an honorable mention to Gunna and Uzi cause they talk that fashion shit and I'm bout all of that.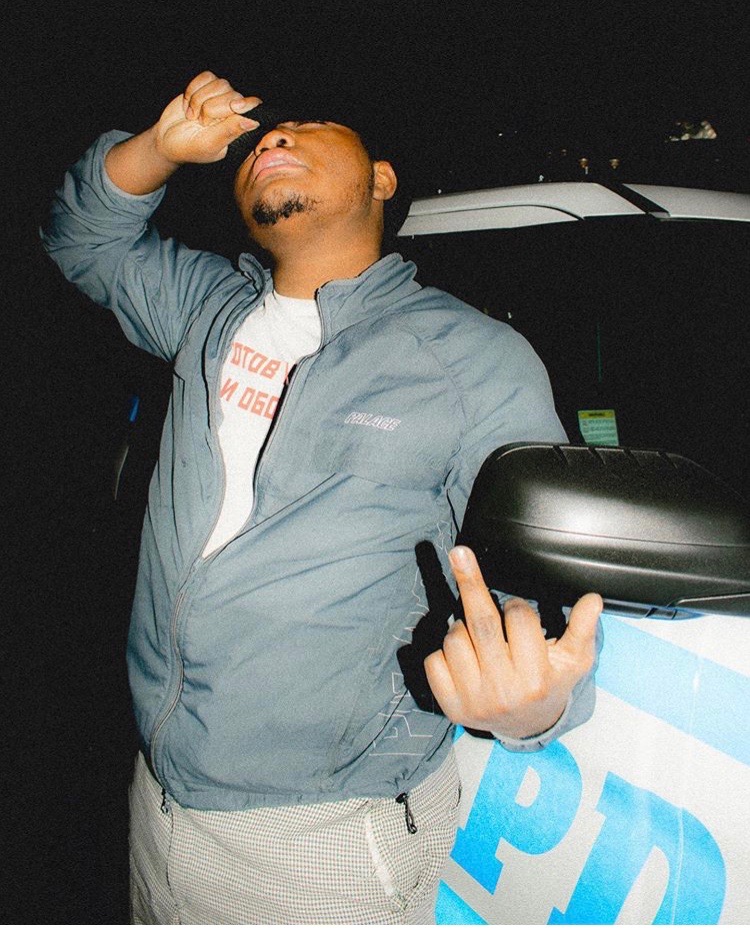 Who would be your dream to collaborate with?
Ha, there's a lot of artist.. a lot…  This is going to be very surprising, but I would say Weeknd. I am a big Weeknd fan and though I didn't list him in my Top 5 earlier, it's only cause he isn't a rapper. The Weeknd In my opinion is the next Michael Jackson and you can tell he takes his vocals serious. I could definitely see me switching up my style for a Weeknd record honestly.
As an artist, what are some of your major goals in the next five years?
In the next 5 years I would like to be put in a position as an artist where I could not only provide for family and friends, but to help my country (Haiti) and shit… like you know single mothers, kids in need of adoption etc. I know we said artist but as mentioned before rap is to open the doors for other things for me. As an artist I want to figure out a formula, when people either hear an Adlib, a flow, or anything, they think "Oh that's P" like you know when people steal Playboi Cartis flow haha like that. I also want the respect as an artist. I could careless about being liked by others much. You think when Jay Z is sitting at the BET awards people are bad mouthing him?? I would say no, because look at everything he's accomplished. He is a walking icon as a black business man.
What can the DropSpot readers expect from you in the near future? Do you have any new music or live shows coming soon?
My manager is working on shows out in New York, so that's soon to come, but for now I am locked in the studio and working on a new project called "Hate me Til' I'm Gone" and tbh this project has a different vibe. From shit I went through all 2019, all the fun things I like to do. It's worth the wait and listen 100% no doubt. But for now I just dropped a song with my brother Kam called Addy. This record is definitely a smash… the energy on it is different.
https://www.instagram.com/p/BzyxXNslllF/
Anything you'd like your listeners to look out for when listening to your music?
When listening to my songs.. look I take pride in picking amazing beats but take time to listen to the lyrics too. Certain songs is stuff you can really relate to. You know? Like losing friends, police harassment, mistakes in my life, fake friends and cheating ass girls lol. Other than the fly, violent, and sexual sound, I do keep it different every time. I don't like sticking to one sound or subject.