This week I had the pleasure of meeting Blake Ruby, singer, songwriter, and multi-instrumentalist from Westminster, Maryland, a small town outside of Baltimore. Blake currently attends Belmont University in Nashville, but even as a full-time student, he has crafted an elegant and professional sound, unique to himself. His soprano voice would be fantastic on its own, but fortunately for us, it is complimented by stellar production and lush instrumentation. When listening to Ruby you can expect jazz-infusion, impressive acoustic playing, and dashes of modern production. Ruby reminds us of a present-day Electric Light Orchestra, with some sonic elements similar to The Beatles. We wanted to learn more about Blake and how his sound has developed – Here's what we learned:
What do you like to do other than music? What instruments do you play/ is it primarily you playing that on your tracks?
I grew up playing tons of lacrosse and soccer through high school, and I enjoy building things, kayaking, reading, and skateboarding (poorly). 
I play guitars, bass, keys, and drums/percussion. I started off recording all of my music on my own, but have since invited many more friends to collaborate on my records with me.  The latest album features 11 other musicians: Chris Roussell (Drums), Quinn Reedy (Guitars), Marcel Wiedmaier (Upright Bass), Walsh Kunkel (Guitars, Synths, Noise), Tim Houston (Fender VI, Guitars, Noise) Ben Reiff (Drums), Luke Enyeart (Slide Guitar), Torri Weidinger (Cello), Patrick Monnius (Viola), Sarah Remington (Violin), and Chris Donlin (Guitar, Keyboards).
How did you get started in the music industry? How was your journey to where you are today?
I grew up playing music on my local church's music team in Reisterstown, MD and then I joined a band called Red Couch in high school.  Throughout the last four or five years Red Couch split into a few other groups and helped curate a local music scene in Westminster, mainly due to an annual summer festival called "Chasefest" put on by Ben Chase, Tyler Drager, and myself (and many other helpers).  The local music scene was my first taste of what a music industry could potentially look like, so I attended Belmont University in the fall of 2016 to study Music Business. I wanted to learn how to record my own music that I had been writing during the previous few years, so I released an EP for fun and it actually gained a little traction in the Belmont community.  I never tried to become an artist or anything I guess my songs just resonated with some people in a super cool way. The last two albums have just been me trying to become more vulnerable with my songs and more competent with my recording/producing abilities, while also helping all my friends do the same.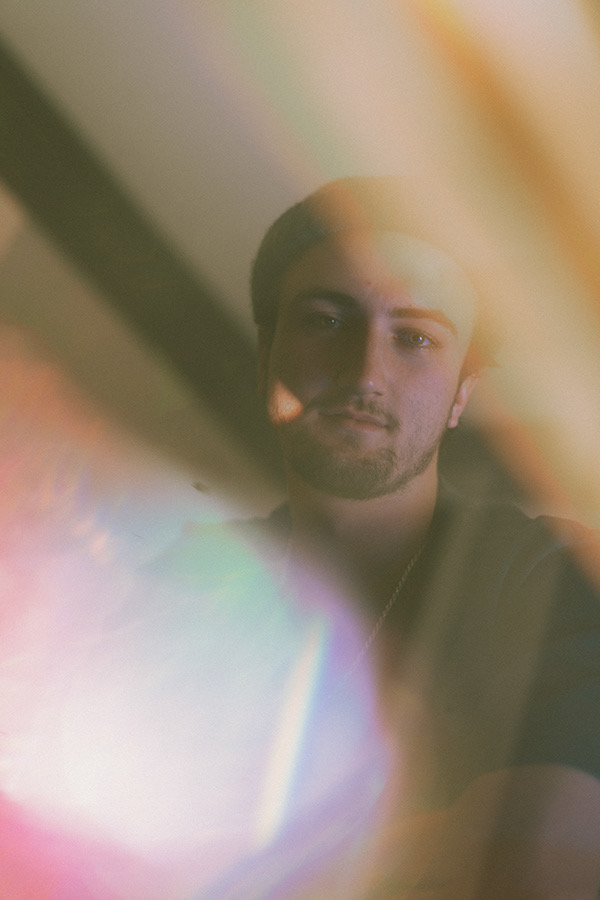 Did you have other career paths, or passions that maybe clashed with music?
I really wanted to play college lacrosse.  It was something I had worked my whole life to do, and then I made some big decisions in high school that lead me towards music instead of a collegiate lacrosse career.  I have a ton of friends who did it and were super successful, but I'm thankful God's plan for me was Nashville instead of studying to become an engineer or something in a northeastern university (and working as a full-time student athlete).  It really just wasn't for me at all in hindsight.  
What's the most rewarding part of being a musician for you?
When I'm on stage and I see someone singing a song I wrote back to me, it is the most incredible feeling in the world.  It never gets old – the fact that someone resonates with what I have to say enough to get completely lost in the music is the craziest thing.
Who or what are your biggest musical influences?
My biggest musical influences are my family and friends.  All of my influences and experiences come from spending time with people I love.  I will list my top 10 albums (so far) to give you an idea of where my production taste comes from though:

22, A Million – Bon Iver
To Pimp a Butterfly – Kendrick Lamar
Blonde – Frank Ocean
All Your Favorite Bands – Dawes
Sound & Color – Alabama Shakes
The OOZ – King Krule
Parachutes – Coldplay
Yankee Hotel Foxtrot – Wilco
On And On – Jack Johnson
Kind of Blue – Miles Davis
Has your musical vision shifted at all since you started?
It's always changing.  I never want to make the same song or project because I'm always trying to grow and strengthen myself as a person, and I want my music to reflect that.
Who would be your dream to collaborate with?
If I could work with anyone it would be artist/producer Blake Mills.  Everything he touches is just so raw and musical, and he's well versed in many instruments and different genres/techniques.  He's worked on a few of my favorite records and his solo work inspires me a ton as well.
https://www.instagram.com/p/B7RJbt2BDJg/
As an artist, what are some of your major goals in the next five years?
I would love to go on a US and/or UK tour, play a major festival, and continue to make more refined, expressive, inspiring music.  Music is just one part of my life though; I'd much rather be a successful dad/husband/friend than artist any day, and I just feel blessed to be able to pursue a creative career in the music industry in the first place.
What can the DropSpot readers expect from you in the near future? Do you have any new music or live shows coming soon?
I'm currently working on booking a spring/summer tour and there are a few new singles in the works (no concrete release plans yet, though).  I did just release an album a few months ago, so if you haven't checked that out yet, please do. 🙂
Anything you'd like your listeners to look out for when listening to your music?
Not particularly.  I'm just grateful for the love and I hope my music can accompany someone throughout all the craziness they might be dealing with.  Listening to music has always been huge for me when I'm trying to find clarity.