Layers of piano, guitar, organ, and banjo create the organic and lush atmosphere of the self-proclaimed "sad girl", Emma Taylor. With adventurous runs, Emma's soft and personable voice slices through her sonic background like a butter-knife producing a smooth impassioned force. Emma's bold and cohesive bank of indie, alternative, singer/songwriter ballads embodies her emotional discoveries, sharing the multidimensional challenges a developing young woman faces on her journey to self-acceptance.
We wanted to learn more about Emma Taylor's passion to bring her stories to a musical medium… here's what we found out:
Hi Emma! Thanks for joining us today. Can you just introduce yourself to start off?  
I'm Emma Taylor, a 22-year-old singer-songwriter born and raised in Los Angeles. I moved to New York for 4 years to study music in college but now I'm back doing music full time in LA.
What type of music do you play?
I like to describe my music as sad-girl music. It's definitely laid back, but it makes you feel. 
When did you begin writing and singing and how has the journey been so far?
I've really been singing for as long as I can remember. My parents used to tell me I would hum before I learned how to talk so I think it's been a part of my life forever. I started seriously singing and taking vocal lessons when I was nine years old. My first song was called "Dream" and it was about music being my dream forever. I wrote it when I was 11. I ended up going to a music camp when I was 13 called Interlochen in Michigan that was strictly for songwriting and that's when my insane spark and need for self-expression began.
Have you had any other career paths or passions that clashed with music? 
No actually. Music has always been my main focus and my complete passion in life. My family has always been super supportive and allowed me to explore music at a young age.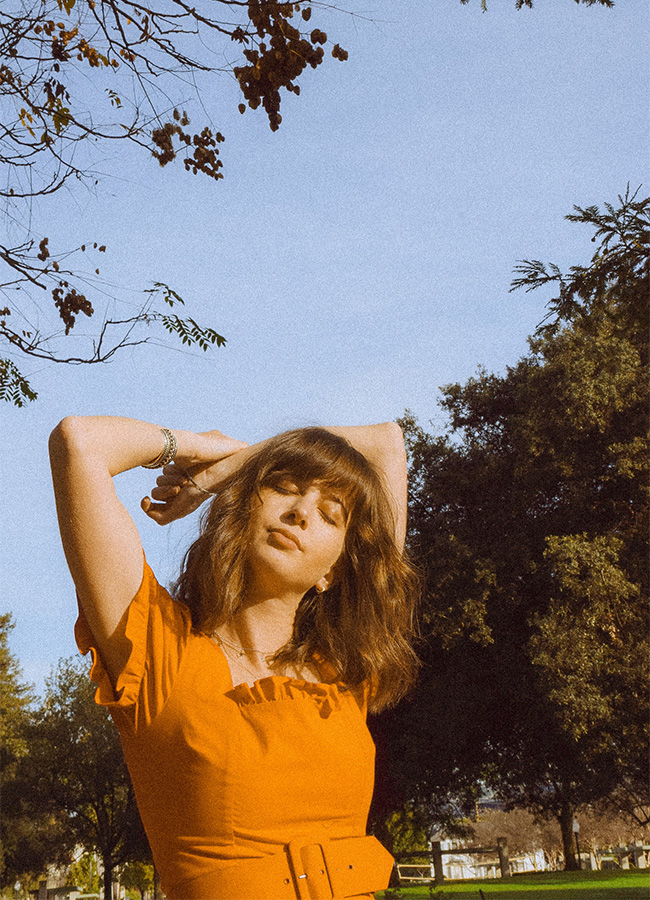 What are some of the major lessons you've learned from writing your own music?
I've learned that it's okay to feel sad and it's okay to feel sorry for yourself. Music is my therapy and I use it to express how I'm feeling. I've also heard horror stories of writers getting their ideas or songs stolen so I think I've learned how important it is to copyright your work and make sure you are getting credit for your ideas. Ah, there really are so many little lessons as well that I'm constantly learning just by being my own 'boss' and my own writer so this is a hard question! But most importantly just learned how it's important to have a voice and be heard and create for yourself.
Out of all of your released music do you have a favorite? If so why is that one your favorite?
I'm really at a point in my musical career where I'm evolving so much, so quickly. Right now each new song I write is my favorite! I'm putting out a new song in a month or so that is probably my favorite one yet, so look out for it. But as for released, I would say either 'New Found Sound', which is off of my first EP called "Hazy", or 'For Forever', which I put out a few months ago. I'd go with "New Found Sound" because it was created so quickly, I was almost destined to write it. It really was so special and it's the only song that had me sobbing when I heard it fully recorded for the first time. I would say 'For Forever' because I think it's lyrically one of my best and is also my favorite recording. I love how it came together and I'm extremely proud of it.
What's the most rewarding part of being a musician for you?
Ahh that's a good question. I am so lucky to be a musician and I think the best part is knowing that I am creating one of a kind music that makes people feel something. Having the ability to create something that is uniquely yours is absolutely amazing.
Who or what are your biggest musical influences?
I'm heavily influenced by 60's and 70's singer-songwriters. My ultimate queen is Joni Mitchell, she is everything to me. I also love James Taylor, Simon & Garfunkel, and Carole King. 
Who would be your dream to collaborate with?
Joni Mitchell without a doubt. She doesn't sing anymore unfortunately. I also love this UK based artist, Lucy Rose.
As an artist, what are some of your major goals in the next five years?
I want to put out a ton of music, tour constantly, sell out shows. I also want to get more into songwriting for other people as well.
What can we expect from you in the near future? Do you have any new music or live shows coming soon?
I have more music! My next single should be out in the next month or two, so stay tuned! 
Make sure to check out more of Emma's music by clicking here – (Apple Music, Spotify, YouTube)